Former Tether CEO Jean Ludovicus van der Velde has a mysterious background. His career offers few clues that he would become a dollar disruptor building a $100 Billion stablecoin empire. But he did it anyway.
Table of Contents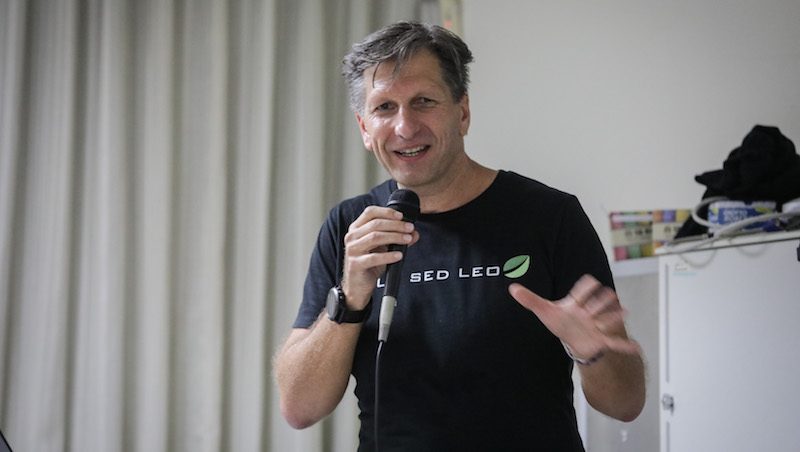 Before launching the world's biggest digital dollar, the Tether CEO used to run a company in China that faced legal issues because it didn't pay bills and taxes on time. Now, Tether is a popular type of digital money backed by real assets, helping people trade cryptocurrencies more easily. It's also the largest stablecoin in the world with market caps reaching incredible heights in hundrets of billions.
As cryptocurrencies have become more popular, stablecoins like Tether have become important for trading. Tether has grown a lot since it started in 2014 and has voer $80 billion of its coins in use. Because of this, regulators are paying more attention to Tether CEO Jean-Louis van der Velde.
But van der Velde is probably less concerned. With his stablecoin business he makes money and loads of it. Certainly enough to retire as a Millionaire in Switzerland.
The Tether CEO had an interesting career
Before Tether, Jean-Louis had an interesting career, working in different industries across different countries. He even ran a company in China called Huashun Electronics, which made things like TV receivers and amplifiers. However, that company faced financial problems and legal troubles.
While Jean-Louis used to run Huashun, he is now involved with Tether, overseeing a lot of money in digital coins. Tether's coins are linked to the value of the US dollar and are used for trading. However, Tether has faced criticism and fines from regulators due to issues with how it handled its finances.
Some important people in the cryptocurrency world, like Sam Bankman-Fried from the FTX exchange, have said they don't know much about Jean-Louis and haven't interacted with him much. Jean-Louis keeps a low profile online and is also the CEO of another cryptocurrency exchange called Bitfinex.
Even though there were troubles in his past with companies like Huashun, Jean-Louis has made contributions to fields like blockchain technology and has taught ethics to students. While he used to run a company in China that had problems, he now plays a big role in the world of cryptocurrencies through Tether and Bitfinex.
"Although the records suggest Huashun's creditors were unhappy, others recall their relations with van der Velde in far more positive terms. Shih-wei Liao, an associate professor at the National Taiwan University who has known the Tether chief for more than 30 years, said van der Velde had made a big contribution to students on a blockchain course they ran together, particularly in teaching ethics." Writes the Financial Times in a sort-of smear-article.
Nevertheless they include a direct quote that is painting a rather positive picture about the Tether CEO: "I am apprehensive of those CEOs who tell our students you can come do AI and blockchain and earn big money. But he is different," Liao said of van der Velde. "He gave his time and not just money.
Tether CEO a shadowy supercoder or shady crypto anarchist?
It's unclear whether the Tether CEO is a good guy or a bad guy or somewhere in-between. Since Jean-Louis van der Velde keeps a low profile, not much is known about him. Based on his publicly known activity he seems like an awesome builder who brings innovation and freedom technology to planet earth and its inhabitants.
On his Linkedin profile JL published a long and comprehensive vita, sharing interesting details about his business life, achievements and motivation:
"A technologist and serial entrepreneur, I speak five languages and has amassed 30 years of experience in the international high tech industry followed by a gradual move towards international finance and Fintech.

(…)
In early 2013, I joined to become CEO / co-founder of Bitfinex and structured the holding (DigFinEx) focused on developing and investing in new Fintech and big data related technologies, implementing a strict set of AML/KYC rules with a self developed system and successfully works with banking partners, regulatory and law enforcement to work on innovation and new developments in the Fintech space. I am also CEO of Tether, a new frictionless payment clearing system in beta testing developed by a team of experts."
Tether's History and Development
Creation: In 2012, J.R. Willett proposed the idea of creating new cryptocurrencies using the Bitcoin blockchain. He helped bring this idea to life in Mastercoin, later called Omni Foundation. This technology laid the foundation for Tether, co-founded by Brock Pierce and Craig Sellars.
Early Stages: Originally called "Realcoin," Tether was introduced in July 2014 by co-founders Brock Pierce, Reeve Collins, and Craig Sellars. The first tokens were issued on the Bitcoin blockchain in October 2014. Tether's concept was based on backing tokens with real-world currencies. It was later renamed "Tether," and the company began private beta testing supporting tokens for US dollars, euros, and yen.
Expansion and Controversies: Bitfinex, a major cryptocurrency exchange, started trading Tether in January 2015. Bitfinex officials were linked to Tether Holdings Limited, registered in the British Virgin Islands. Tether faced challenges in processing US dollar transactions through Taiwanese banks and had legal disputes with Wells Fargo. They expanded to issue tokens on various blockchains like Ethereum, EOS, and Tron.
Tether Variants: Different types of Tether tokens emerged, including those on Bitcoin's Omni layer, ERC-20 tokens for US dollars and euros, and a TRC-20 token on the TRON network.
Growth and Controversies: Between 2017 and 2018, Tether's supply surged from $10 million to $2.8 billion. Tether played a significant role in Bitcoin trading volume, even alleged to manipulate Bitcoin's price. A report suggested that Tether issuance was linked to the Bitcoin price surge in 2017. In October 2018, Tether briefly dropped in value due to concerns about its stability.
Questionable Practices: There were reports of Tether's co-owner being involved in questionable activities, discussing ways to bypass banking regulations in China. Tether responded, calling the reports inaccurate.
In summary, Tether was conceived as a way to create cryptocurrencies linked to real-world assets. Its journey has been marked by growth, controversies, and concerns about its influence on the cryptocurrency market and financial practices.
Should You Trust the Tether CEO?
No. You should never trust any single person in crypto and Bitcoin. Instead, do your own research and verify. The more you learn, the more you earn. On the opposite, the more you blindlessly trust, the more vulnerable you become to get scammed (rekt).

While you may want to hold some of your money in tether, you should always be aware of the risks. Even if the Tether CEO is a good guy and has no intention of scamming you, there are risks outside of his control that could mean a collapse of the system.
The Conspiracy About Van Der Velde
There is a secret behind the foundation of Bitfinex, one of the largest global cryptocurrency exchanges, and Tether, the so-called "central bank of the crypto ecosystem", which manages the dollar-linked stablecoin of the same name worth 70 billion dollars. A secret that binds the Italian cryptocurrency guru, Giancarlo Devasini, financial director of Bitfinex and Tether, and the Dutchman Ludovicus Jan van der Velde, CEO in both the companies. 

DI NICOLA BORZI E STEFANO VERGINE
There is a secret behind the foundation of Bitfinex, one of the largest global cryptocurrency exchanges, and Tether, the so-called "central bank of the crypto ecosystem", which manages the dollar-linked stablecoin of the same name worth 70 billion dollars. A secret that binds the Italian cryptocurrency guru, Giancarlo Devasini, financial director of Bitfinex and Tether, and the Dutchman Ludovicus Jan van der Velde, CEO in both the companies. 
Bitfinex, a prominent global cryptocurrency exchange, and Tether, a key player in the crypto world responsible for the USD-pegged stablecoin worth $70 billion, have concealed a mysterious connection involving Italian cryptocurrency expert Giancarlo Devasini, who serves as the financial director for Bitfinex and Tether, and Dutchman Ludovicus Jan van der Velde, who acts as the CEO for both companies. This connection traces back to dealings with Gennaro "Rino" Platone, a figure well-acquainted with legal authorities across Europe due to his involvement in VAT fraud networks, which generated substantial revenue, often exceeding half a billion euros annually.
Platone's shadowy activities in the world of VAT fraud saw him connected to companies like Formosa SA in Switzerland, King Com Srl in Italy, and Perpetual Action Group Sam in Monaco. These connections formed a vital piece in the Spanish "Operation Medina," an extensive investigation into carousel fraud, one of the largest VAT scams in Spain's history, causing estimated losses of €400 million for the Spanish tax authorities. Carousel fraud is a massive problem across the EU, costing up to €60 billion annually as it exploits variations in VAT treatment among member states, enabling illegal enrichment through false VAT claims and unpaid taxes.
The mysterious link between Devasini and Platone is partially unraveled through the Perpetual Action Group (PAG) and its Asian subsidiary, PAG Asia, hinting at concealed shareholder identities within Tether and Bitfinex. It appears that Devasini had a role in PAG's European operations, which ties him to Platone's questionable VAT practices.
PAG Asia, once engaged in exporting electronic products to prominent retailers, is shown to have links with Bitfinex and Tether's ownership. However, the true identities of these shareholders remain hidden.
Platone's history is marred by a decade-long involvement in international VAT carousel frauds. He was considered one of the major players in this illicit activity, amassing substantial wealth while navigating the complexities of this criminal network. Eventually, legal proceedings caught up with him, leading to convictions in countries like Spain, the Netherlands, and Germany. His illicit activities transcended borders, making him an expert in this type of fraud.
Platone's fortune took an unexpected turn as he ventured into the solar energy business, leading the development of Europe's largest solar park in Sicily. This venture included associations with individuals connected to him and, interestingly, Devasini and van der Velde.
Amid these revelations, questions emerge regarding Devasini's association with Platone's companies and VAT fraud schemes, particularly in the United Kingdom. VAT fraud appears to have left a shadow on Devasini's past business dealings.
This intriguing narrative uncovers a complex web of connections and raises concerns about the legitimacy of key figures in the cryptocurrency industry. The full extent of their involvement in VAT fraud and the undisclosed shareholders in Tether and Bitfinex remains a mystery.