This article discusses the rapid rise and fall of Hopin, a digital events platform, and its implications.
The valuation soared to USD$7.75 billion in 2021 but plummeted to just USD$15 million by 2023.
This drastic decline highlights the volatility of tech startups and prompts a reevaluation of the "pivot to digital" concept in the events industry.
The article also underscores the challenges faced by modern media outlets, with limited resources impacting the depth of reporting. In essence, it's a cautionary tale about overhyped valuations and the enduring importance of traditional, face-to-face events.
Key Takeaways
Valuation Plunge: Hopin's valuation plummeted from USD$7.75 billion in August 2021 to just USD$15 million in August 2023, marking a 99.9% decrease in less than two years
Disastrous Investment: if you had invested $1 million in Hopin in 2021, your shares would now be worth a mere 20 cent.

Media Constraints: Media outlets, like The Times, are grappling with reduced resources and staff, impacting the depth and quality of reporting in the modern media landscape.

Reevaluation of Digital Shift: Hopin's downfall signifies a reassessment of the once-hyped "pivot to digital" concept in the events industry, suggesting that traditional, in-person events may retain significance in certain contexts.
Table of Contents
Phil Soar, the Chairman of CloserStill Group and Nineteen Group, provides insights into the downfall of Hopin and how its decline marks the conclusion of the "shift to digital."
Back in August 2020, I penned an article for EN discussing the digital event platform and I've since occasionally provided updates on its status.
Hopin, as heralded by The Times, was envisioned as the future of events, one predominantly conducted online and in the digital realm.
However, on August 10, 2023, it was officially announced that the startup had essentially shut down and sold its video events division for USD$15 million.
It's worth noting that, in August 2021, The Times had breathlessly reported Hopin's valuation at a staggering USD$7.75 billion. It's important to clarify that this massive valuation was primarily attributed to Hopin's video events segment.
What is Hopin?
For those who might have missed the hype, Hopin was touted as one of the leading companies set to revolutionize the events industry.
Hopin tried replace traditional, in-person trade shows with video meetings, virtual conferences, and digital sales, obviating the need for physical attendance at venues like the NEC. This hype attracted a billion dollars in investment and a valuation that surpassed even that of Informa.
On August 11, 2020, The Times dedicated two pages to the question, "Is the party over for the corporate event?" I had hopeful expectations of reading something substantial or intriguing. One would assume that the writer had extensively interviewed various industry players, but this wasn't the case. It appeared that they had spoken primarily to the marketing director of Cannes Lions.
This serves as a typical example of a broader trend we've observed – newspapers have significantly reduced their staff, leading to insufficient time and resources to pursue in-depth stories. Consequently, they tend to publish more public relations-oriented content.
The Times was so enthusiastic about Hopin that they pointed out it took UBM over a century to reach a valuation of £4 billion, while Hopin's founder, Johnny Boufarhat, achieved a higher valuation (USD$7.5 billion) in just 30 months.
I couldn't help but comment that Stephen Carter must have regretted buying UBM when he could have acquired profitless Hopin for a similar price.
In August 2020, I expressed my skepticism, stating: "I don't believe that the fundamental nature of trade shows and many conferences – the tactile experience, face-to-face interactions, reconnecting with old acquaintances, PR activities, and the desire to be part of an industry gathering – has changed significantly.
While we may see some fallout, I don't believe Hopin alters human behavior. I would wager heavily that Hopin won't be worth USD$7.5 billion in five years' time.
I'd also bet that the quality of newspaper reporting on our industry won't improve much."
The Times' Shift in Perspective on Hopin
On August 11, 2023, an article by Robert Miller in The Times remarked, "A video events company that was Europe's fastest-growing startup in history…with a value of $7.8 billion…has sold its video conference business for just USD$50M."
(It's important to note that the last figure isn't entirely accurate; the buyer, Ring Central, stated that USD$15 million was paid upfront, with a maximum deal value of USD$50 million – in financial terms, this implies a USD$15M price with potential additional payments if specific targets are met.)
An April 2022 Financial Times article revealed that Hopin's "explore" tab, designed to help users discover virtual events to attend, listed fewer than 500 events, a stark decrease from over 15,000 in November 2020. This fact tells the entire story.
The founder, Johnny Boufarhat, 29, was previously reported to have sold shares worth nine figures and relocated to Switzerland.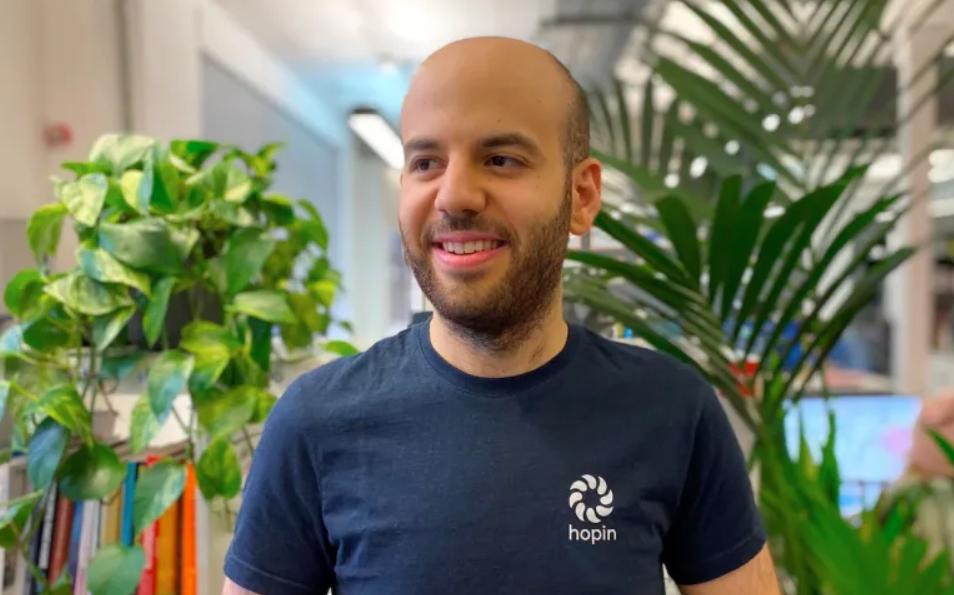 Mr. Miller reported his statement: "While the Hopin events platform has played a pivotal role in our journey, we recognize that our events business and the immense talent behind it could grow to its fullest potential within the Ring Central ecosystem." Unfortunately, Mr. Miller did not clarify the meaning behind these words.
The executive team then also asserted that it maintains a robust and expanding balance sheet, substantial capital, profitability, and positive cash flow. This assertion is plausible, given that venture capital investors injected at least USD$450 million into the startup in 2020 and 2021, and possibly even more. If this capital wasn't entirely expended, it could still reside comfortably in a bank account.
If the young firm should get investigated, shareholders might find out whether illicit measures such as insider trading, pump and dump and "exit scam" took place or not.
A Record loss
From a quoted value of USD$7.8 billion to just USD$15 million in less than two years is undoubtedly a remarkable decline. It signifies that shareholders ostensibly lost 99.9% of their investment during that period.
To put it more plainly, if you had invested £1 million in Hopin in 2021, your shares would now be worth a mere 20p.
Business fantasies and meteoric rises typically have symbolic endings. The demise of Hopin can be viewed as the burial of the "pivot to digital" concept, a notion fervently embraced by many in the industry in 2020, with numerous Zoom calls predicting that at least 25% of industry revenues would be "digital" by 2025.
While nothing in business lasts forever and change is inevitable, this episode, within the relatively staid world of trade shows, is undeniably remarkable.
FAQ
What is Hopin used for?
It is used for hosting and managing virtual events, such as conferences, trade shows, webinars, and meetings. It provides tools for event organizers to create interactive and engaging online experiences.
How does it work?
The platform helps event organizers to set up virtual event spaces, including stages for presentations, networking areas for attendees, and exhibitor booths. Participants can access events through web browsers and engage with content and other attendees in real time. Before the event starts the software also allows to sell tickets directly on the platform and utilize various marketing tools.
What features does Hopin offer?
Fatures like live streaming, ticket sales chat, breakout sessions, virtual exhibitor booths, networking lounges, and analytics are all part of the platform. It aims to replicate many aspects of in-person events in a virtual environment. The platform is a turnkey solution that covers all aspects of the virtual event.
Is Hopin free to use?
Hopin offers a range of pricing plans, including a free plan with limited features and paid plans with more capabilities. The cost depends on the size and needs of the event.
Who uses Hopin?
It is used by various organizations, including businesses, event organizers, educational institutions, and nonprofits, to host a wide range of virtual events. While the platform experienced large demand during the corona plandemic, the usage declined after real events came back. Many believe that the value of face-to-face meetings cannot be replicated online.
What happened to Hopin's valuation?
The startup experienced a significant increase in valuation in 2021, reaching USD$7.75 billion. However, it faced challenges, and by August 2023, its valuation had dramatically declined to USD$15 million.