Thanks to our special referral campaign with OKCOIN you can get $50 Free bitcoin now!
It's super easy and straightforward. It takes less than five minutes.
All you have to do is create your account at the OKCOIN exchange.
Once you pass verification (at least level 2) simply deposit at least $100 and purchase bitcoin.
That's it, you'll will receive $50 credited in your account as a welcome bonus from OKCOIN.
Who says no to free money? Exactly.
But wait, is there no hook?
There is no hook but you have to create an account, verify and deposit $100. OKCOIN is a very reputable bitcoin exchange with a solid track record of years of successful operation. They are trusted by millions of users around the world.
Get started with bitcoin
How to get started with bitcoin is a question many people feel is getting more and more important. With a record high inflation rate, shaky financial markets and economic uncertainty, people are looking for the safe haven.
Is bitcoin good to survive economic struggles? For many people, bitcoin is the best savings technology ever invented. There will never be more than 21 Million bitcoin in circulation making it a super hard asset and 100% inflation proof. Just a small position could turn into a fortune one day. Or how about using the DCA method to grow your wealth over time?
How to get 50 Dollar FREE Bitcoin?
There are always deals around to get a bonus or perk when you create a new account. We are constantly looking for the best deal and today we'd like to introduce you to the ongoing OKCOIN deal. You will receive $50 worth of free bitcoin. This is by far the best offer in the industry right now. So go and get it before the campaign ends (it can end at any time).
What is OKCOIN?
Okcoin is a well established and pretty reputable bitcoin exchange. You can buy or sell and trade. For a beginner it might not be the right strategy to trade bitcoin because you would risk losing them. But to just to do a purchase and use OKCOIN as an onramp it's worth checking it out in our opinion. Just stay away from the shitcoins please.
Not Your Keys Not Your Coins
If you leave your bitcoin on okcoin you could also just say "bye, bye…" to your funds. Well, not exactly, nowadays exchanges seem to be by far more safe than back in the early days of bitcoin. Remember MTGox? (If not, google it and fill your knowledge gap).
Don't be blinded by a false perception of safety. It is always a risk to give your private key, i.e. your bitcoin to someone else or a company. Use a hardware wallet to control your keys and make sure your backup works perfectly. 
And always remember: not your keys, not your coins.
KYC is the illicit activity, be aware of the risks
KYC is a risk to your bitcoin. Because bad actors like governments and criminals could associate your name and address with a bitcoin account. KYC is nothing more than the attempt to control the people and stop them from being free. It's an illicit activity imposed by the banking cartel. They tell you it's to find terrorists and stop money laundering, while all terrorists get financed by intelligence firms and billions are laundered through the big banks every year.
Note that when you register with a bitcoin exchange you have to submit personal details such as your address and passport. This poses a risk because if the data ever gets leaked, hackers could obtain it. And do you want your name to be part of a list in the darkweb? Probably not. Always consider buying bitcoin without KYC, it's clearly more private and possibly much safer.
Check out our article of non-kyc bitcoin are more valuable here.
How to GET $50 free btc from OKCOIN?
Now you are probably wondering how to actually get the Free Bitcoin from OKCOIN exchange?
It is very simple and takes only 3 Steps:
Step 1 – Follow the link below and sign-up on OKCOIN
Click this Link: https://www.okcoin.com/join?channelId=600139314 

Step 2 – Register your account and verify
Now you need to create an account on OKCOIN. This requires your email, phone number and home address. Once you have entered your details you need to pass verification level 2. That means you have to scan your ID and Passport and verify your address.
Step 3 – Deposit $100 and buy cryptoHow to get 50 Dollar FREE Bitcoin?
The final step is to link your bank account or credit card and deposit at least $100 and purchase crypto or bitcoin. Bitcoin is probably the better choice when you are just getting started. Once you've done that, you will see $50 pop up in your account. That is your welcome bonus that you receive from our referral. Enjoy! 
When does this campaign end?
OKCOIN has not made a clear statement about the duration of this bonus. On their website they write "This offer is available for a limited time and terms of the offer can change without prior notice."
There will always be a bonus for new customers but it might not be $50 forever. We believe that it will be active for at least one month as the campaign has started just recently. On the other hand, okcoin could limit or reduce the bonus payments once they hit their campaign goals. Because they will probably have a specific budget for this campaign and have to cut lines when the cap is close. Remember, this campaign is designed to onboard new clients to OKCOIN to increase their company valuation, trading volume and of course profitability. Now we don't know how long this campaign will last but be sure an exchange like OKCOIN will always appreciate a new client and will be generous to pay a bonus. But it may not be $50 for much longer hence we recommend to take this opportunity now and not let any more time pass.

When is my welcome bonus credited?
As soon as you've made your $100 bitcoin purchase, your $50 bonus will be added to your account.
Okcoin writes on their website: "Rewards are distributed daily at 4 am PT" and further "Only available for new account registrations. Rewards become available for withdraw after 180 days."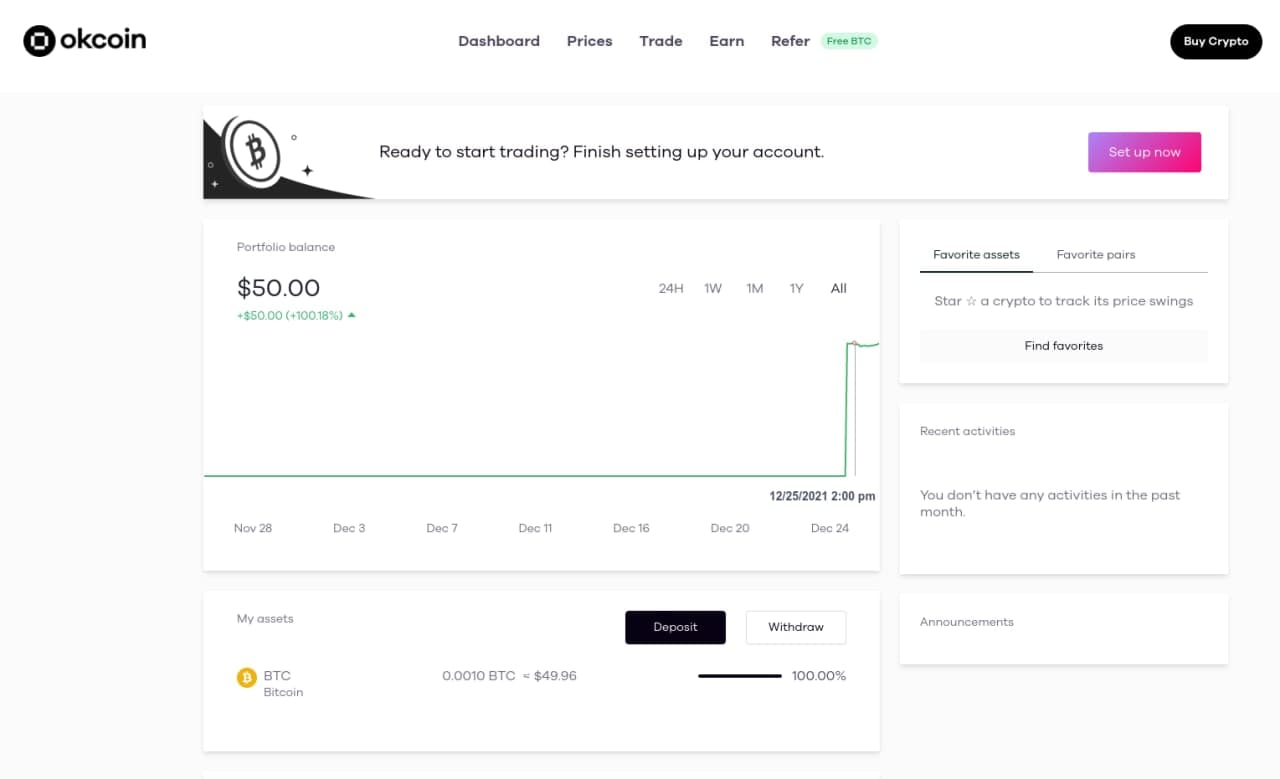 By the way, OKCOIN also does some funny "anti-mask" guerilla advertising in the streets of Miami.
Should I trade bitcoin or buy & hold?
Some people argue for trading bitcoin in order to make a profit. Others are advocating to only hold and save bitcoin. Below you find a couple of resources to help you make that decision.